Forbes.com announced Thursday that worldwide traffic to the site reached nearly 20 million (19,944,014) unique visitors in December 2008, according to research firm Omniture Worldwide.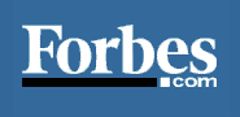 The total marks a 46 percent increase in traffic from December 2007 to December 2008.
Traffic increased by 22 percent from the fourth quarter of 2007 to the fourth quarter of 2008, and traffic increased 3 percent from the third quarter of last year to the fourth quarter.
"This continual increase in traffic reflects the continued trust business decision makers place in Forbes.com to provide the most relevant, up-to-the-minute financial and business news, especially during turbulent economic times," said Jim Spanfeller, CEO and President of Forbes.com, in a statement.
The magazine has recently combined its Web and print operations, resulting in a number of layoffs.
Read more here.