Financial Week, the Crain's weekly business paper that was launched in 2006 and shut down at the end of 2008, is going out with a bang.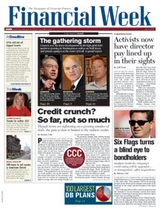 The publication, which continues on as a Web site with a skeleton staff, has been notified that it has been nominated for five Jesse H. Neal awards, given by American Business Media.
It is a finalist for the following five categories: Best subject-related series of articles, Best staff-written editorials or opinion columns, Best news coverage, Best single issue of a newspaper/news tabloid, and Best web site.
Financial Week has also been nominated for the Media Information Network Best of the Web contest.
Meanhile, Financial Week editor Glenn Coleman is moving to Crain's New York Business as the co-managing editor.