Financial Week staff to be cut
Keith Kelly of the New York Post reports that the decision to cut Financial Week's printed publication and go with an online-only strategy will result in the majority of its news staff beind laid off.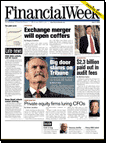 Kelly writes, "The bulk of the layoffs were at two-year-old Financial Week, the award-winning weekly, which published its last print edition on Dec. 7 and will now be only a digital publication.
"As a result of the move to digital-only publication the editorial staff is shrinking from 18 people to four. The laid-off include the launch Editor-in-Chief Glenn Coleman. At Ad Age, the cuts included four editorial people and two business people."
Read more here. Also departing on Jan. 5 are assistant managing editor Jeff Nash, senior reporter Neil Roland from the DC bureau, and reporters Beth Braverman, Mark Bruno, Marine Cole, Carleen Hawn, Hilary Johnson, Matthew Monks, Nicholas Rummell and Matthew Scott.
Remaining to run the Web site will be executive editro Ronald Fink, web editor John Goff, assistant managing editor Matthew Quinn and reporter Tim Catts.