Ben Boychuk writes for MacWorld about the best and worst applications for the iPhone in providing economic news and information.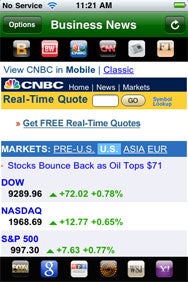 Boychuk writes, "Although Steve Parker's $1 Business News is another browser-based source aggregator, it could never be mistaken for Business News Reader or Money News. The app's slick interface features 12 news sources, including Bloomberg, BusinessWeek, CNBC, CNN Money, Dow Jones and the Wall Street Journal, the Financial Times, Fox Business, NPR, Reuters, and Newsweek. Unlike Business News Reader and Money News, you can add as many sources as you like to Business News.
"Business News is part of the EZ News family of apps. What makes it EZ…, er, easy? Navigation is simple. You tap the 'options' button in the upper left to make your browser navigation and bookmark buttons appear and disappear. The app displays its sources as graphic icons at the top and bottom of the screen in portrait mode, and retracts them when you go into landscape mode. To navigate in landscape, you simply shake your handheld and the navigation controls appear.
"Not all of the sites that Business News offers are optimized for handheld viewing. The Wall Street Journal and Financial Times, for example, are simply those publications' Web sites. You can zoom in and out of text with a pinch or a tap.
"Bottom line: Business News provides the best round up of sources with a user-friendly interface, while Economy offers up easily digested chunks of essential economic data."
Read more here.