At the Wednesday launch of The Wall Street Journal's new luxury magazine, editor Robert Thomson noted how journalists were flocking to Dow Jones, writes Matt Haber of the New York Observer.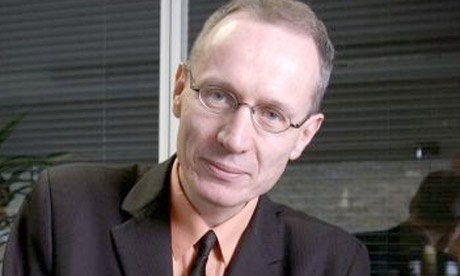 Haber writes, "Ms. Gaudoin was introduced by Robert Thomson, managing editor of The Wall Street Journal and editor in chief of Dow Jones & Company, whose severe, imperious manner was lightened up by his joke that, Ms. Gaudoin was 'the world's most talented, the world's best magazine editor of British origin called Tina.' Looming on the stage, Mr. Thomson resembled Anton Ego from Ratatouille, but had a loose, jokey demeanor. One wondered how many members of the crowd couldn't stop thinking of Ludovic Seeley, the magazine editor imported from Australia to launch The Monitor in Claire Messud's The Emperor's Children.
"Mr. Thomson boasted that 'The eschatological angst that characterizes much of the newspaper industry does not define Dow Jones. You'll see when the next round of circulation figures are released just how robust, how rosy our sales are.'
"After rattling off figures and stats—they're adding bureaus overseas! creating a news hub online! their digital audience is up '92% year-on-year'!—he said, 'We are being inundated by journalists from around the world who can sense that we are pursuing a journalistic agenda, a quality agenda, an agenda of objectivity. We don't have the fetid air of failure at Dow Jones.'"
Read more here.