Crain's closes FinancialWeek.com, two Europe print publications
TALKING BIZ NEWS EXCLUSIVE
The following message from Keith Crain, chairman of Crain Communications, was sent to staff members at Crain's publications:
"Today, we had to take the difficult step to close Business Insurance Europe in London and Automotive News Europe in Munich.  We will continue to serve European readers through news, special issues, events and digital coverage from their parent publications:  Business Insurance and Automotive News. The U.S.-based titles will now become even stronger global brands.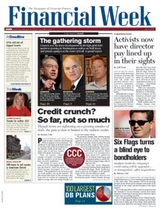 "In addition, the Web site financialweek.com will be suspended.  The print publication Financial Week closed in December and we tried to make a go of an online-only news operation this quarter.    Unfortunately, advertising is just not there in this vertical market to make it viable so we are shutting the New York-based Web site.
"These three titles, and RCR Wireless News which we closed earlier this week,  were staffed with smart, hardworking people.  It saddens us that the economic collapse has dried up business for these titles and forced these actions.  During times like these, we truly appreciate your continued efforts."
The print version of Financial Week had closed at the beginning of the year.