Dan Butcher of Mobile Marketer reports that CNNMoney.com launched a Blackberry application last week, and he writes about its push into mobile apps. It already has an iPhone and iPod Touch app.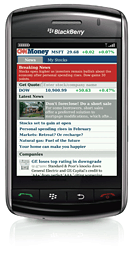 Butcher writes, "With this application, CNNMoney.com is targeting senior management, the professional managerial class, senior executives, business decision-makers and influencers.
"In terms of age, CNNMoney.com is trying to reach well educated consumers ages 18-54.
"The median age of CNNMoney.com is in the 40s, skewing more male than female. The site has a large at-work audience as well."
Butcher later adds, "According to Nielsen, CNNMoney.com's mobile Web site received 2.8 million unique visitors and 20 million page views in March."
Read more here.