Chris Ariens of TVNewser reports that CNN's Susan Lisovicz, who has reported for years from the New York Stock Exchange, is leaving the network.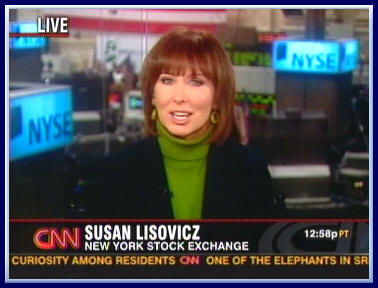 Ariens writes, "A CNN insider tells us Lisovicz told colleagues last week that she will be leaving the network after her contract was not renewed.
"Lisovicz was CNN's primary correspondent on the stock market. She also reported for CNN International, HLN and CNN Radio. Prior to CNN, Lisovicz was a correspondent and anchor at CNBC.
"It's not known who will take over at the NYSE but a CNN spokesperson tells TVNewser, 'CNN maintains its commitment to business news and will maintain a presence at the NYSE.'"
Read more here. Lisovicz was live on the air when former President George W. Bush made a surprise visit to the NYSE and was the only reporter to get an on-air comment. Her live coverage of the stock market resulted in her picture on BusinessWeek's March 2007 cover titled, "What the Market is Telling Us."