MediaWeek's Mike Shields is reporting that BusinessWeek is looking to launch a new financial site later this week that it hopes will triple its number of pages.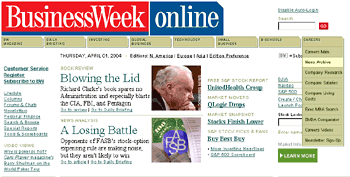 Shields wrote, "Starting May 1, the new Company Insight Center (CIC)—built in conjunction with BusinessWeek sister company Capital IQ (both owned by McGraw-Hill Cos.)—will begin housing a huge amount of free financial information on companies and individuals that is typically restricted to Wall Street types.
"Using the CIC, anyone with Internet access will be able to sift through info on 42,000 public companies, 322,000 private companies and roughly 1 million executives, pulling the latest stock prices and earnings data, as well as listings of companies' boards of directors. That's a major point of differentiation versus other such products, according to Roger Neal, Businessweek.com's general manager."
Read more here.