Analysis of the WSJ's closing of Boston bureau
Johnny Diaz of the Boston Globe takes a closer look Friday at The Wall Street Journal's closing of its Boston bureau.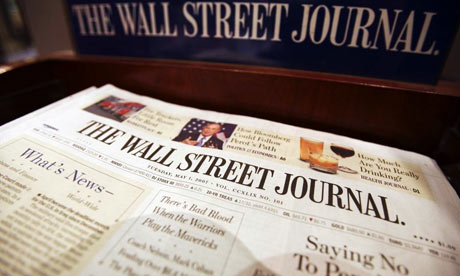 Diaz writes, "The closing surprised media analysts, who say the Journal needs a base in the heart of New England. 'This is an area that is alive with business news and readers,' said Lou Ureneck, chairman of Boston University's journalism department.
"The Boston bureau, which is at least 100 years old, has won two Pulitzer Prizes in the past five years: one in 2004 for a series on how university admissions favored children of alumni and wealthy donors and another in 2007 for an investigation of the abuse of backdated stock options for business executives.
"Roy Harris, a former 23-year Journal reporter, wrote 'Pulitzer's Gold,' a 2008 book that focused on the bureau's prize-winning investigation. 'To lose a bureau in a critical area like Boston is going to be costly for the Journal and Journal readers,' said Harris, a Hingham resident.
"The investigative team of two Boston employees will remain here, officials said. Coverage of the Boston mutual fund industry will move to the New York-based Money and Investing team and the Journal will create an enhanced New York-based education team."
Read more here.