The Albany Times-Union has been publishing an annual look at the Capital Region economy. But now, that special section will come out quarterly and be called Capitaland Quarterly, or CQ.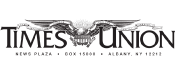 Executive Business Editor Marlene Kennedy writes, "At the crux of the overhaul was the belief that the annual product had grown too big for its britches: We were producing three successive Sundays of special stories — nearly 150 pages of text, pictures and graphics in all — that were arriving with a thud on readers' doorsteps. And a lot of the good work inside was merely scanned, if we were lucky, because recipients were overwhelmed by the sheer volume of the material.
"Now, we can deliver those stories about Capital Region businesses with more frequency and offer smart talking points at the same time.
"For instance, among the new recurring features in CQ is 'By the Numbers,' a compilation of economic and other data. Here you'll find by how much single-family homes have appreciated over the last year, and how many millions of oysters have been served over the years at Jack's Oyster House in Albany. Advice columns on jobs and the workplace invite your questions and quandaries, which we'll take to local experts. And in 'Made Here,' we'll dissect Capital Region products."
Read about the new quarterly here.