This is how important business journalism is today: A business journalist has appeared on a late night talk show.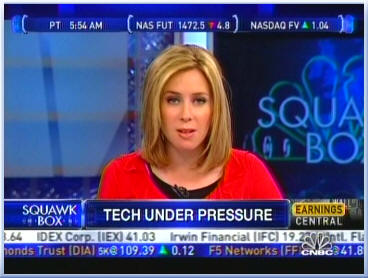 CNBC's Becky Quick, co-anchor of "Squawk Box," made her first appearance on CBS' "Late Show with David Letterman" on Tuesday.
Letterman introduced Quick as an "accomplished journalist and co-anchor of 'Squawk Box'" and then asked Quick what is a squawk box. During the segment, Quick was asked about the financial crisis as well as Bernard Madoff.
Letterman wondered where all the money Madoff said he swindled out of investors went to. He also said that if he had done what he would have "put a gun in his mouth." Quick said she didn't know how Madoff could live with himself.
Quick pointed out the financial crisis is resulting in families saving and saving levels are going up for the first time since 1952 when records began being kept.
He ended the interview by asking her whether she has a book to plug. "Nope," she said. And then Letterman waved and shook her hand.