WSJ's fashion bureau all about advertising
Philip Stone of Follow the Media argues that the Wall Street Journal's decision to open a fashion bureau is all about pulling in more advertising dollars, not attracting more readers.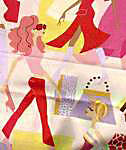 Stone wrote, "Having seen the lure of the luxury trade to the US Saturday edition and the quarterly European magazine, Journal executives have now decided to try and cash in on fashion/luxury big-time. The newspaper has announced the opening of a fashion bureau in New York that will co-ordinate all global reporting on fashion, retail and luxury goods for the US, European and Asian and online editions of the Journal.
"The Journal is being rather clever about all of this, making a lot of buzz in fashion circles for very little additional cost. The Journal chose not to spend big bucks hiring a big fashion-name editor with a reputation like a Suzy Menkes, but instead decided to promote from within, naming Lisa Brannon, previously deputy bureau chief of the Journal's media and marketing section to head its coverage of the $200 billion fashion industry. Her biography shows she has basically been a business reporter for most of her career, although she did have a stint with Fairchild, but that appears to have been on business reporting side rather than fashion reporting.
"And it's not that the Journal is hiring scores of new fashion writers, in fact it looks like they are not adding staff at all. They'll now have Ms. Brannon coordinating the fashion coverage from the five fashion reporters already in New York who now work for different sections but now will come under one fashion umbrella, plus she will collaborate with current Journal reporters in Paris, London, Tokyo and Los Angeles (Milan seems strangely left out of that list)."
Read more here.