WSJ reporters excited about move to midtown
Wall Street Journal reporters feel that a move to midtown Manhattan, closer to new owner Rupert Murdoch's office, will be helpful to them in meeting with sources and in traveling, writes John Koblin of the New York Observer.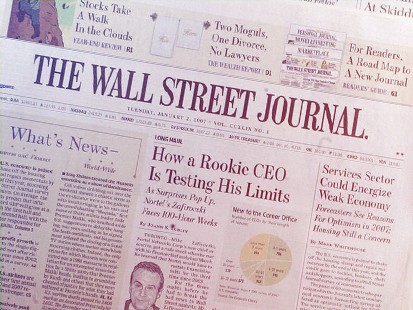 Koblin wrote, "In fact, it turns out, the reporters like [Wall Street] better as a state of mind than as an actual place.
'It's so enormously grim,' said another. 'You have to walk past a work site every day and so many subway stations are closed. I don't want to spend half my day traveling to see sources in midtown.'
"Reporters and editors interviewed about an uptown move talked about easier commutes and more interesting places to eat lunch—no more P.J. Clarke's!
"But then, you can't move out of one place without moving into another.
"'Now we're going to be a few floors away from Rupert and that'll be different—he can just walk down to the newsroom if he wants and decree whatever,' said one reporter. 'Whereas down here, yes, the acquisition went through, but you don't really feel a presence. We're still a little island down here. When we get up there, it'll really set in that he owns us.'"
Read more here.