Unfairly criticizing insurance companies
Ken Shepherd of the Business & Media Institute argues that CNN's Ali Velshi is unfairly criticizing insurance companies in coverage about the industry as part of reporting on the one-year anniversary of Hurricane Katrina.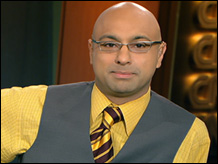 Shepherd wrote, "Yet elsewhere in his story, Velshi admitted that one insurance company was unable to talk to Velshi about individual cases, exactly the topic of Velshi's story: individual cases of frustrated insurance claimants.
"'Allstate says it won't comment on specific cases,' he noted after highlighting one couple's gripes about the company.
"In fact, many companies refuse to comment to the media about cases under litigation or threat of litigation, and Velshi should know it. Instead, the business reporter could have sought comment from the American Insurance Association (AIA) or the Insurance Information Institute (III) for industry input in his story.
"Indeed, that's what he did two days earlier, when Velshi filed a similarly slanted story about damage to one Cecil Tillman's property in his first installment of 'Red Tape and Rubble.' In his August 28 story, Velshi noted that 'we wanted to ask Nationwide about Tillman's case, but the firm wouldn't comment, so we went to the Insurance Information Institute, the industry's public relations arm.'
"What's more, while Velshi's featured hurricane victims may have legitimate complaints, the CNN reporter failed to note that these cases in the tiny minority of insurance claims, according to the III. The organization reported on August 22 that 95 percent of claims from Katrina have been finalized 'and the vast majority' of those dealing with insurance claims in Mississippi and Louisiana 'are satisfied with their insurance company.'"
Read more here. As someone who spent a decade covering the insurance industry, it's not an easy beat, and there are plenty of negative stories to write. But fairness should always come first.