Reuters off to a good start in 2008
Reuters Group expects to deliver strong 2007 results and has seen a good start to 2008 with no signs of major weakness in the United States, Chief Executive Tom Glocer said Friday, according to a Reuters story.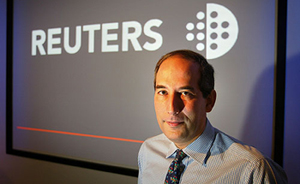 The story stated, "'I've been calling for a signature year … and I'm very confident we'll have and we'll deliver just that signature year,' Glocer said in an interview on CNBC Television on the sidelines of the World Economic Forum in Davos.
"Glocer also said 2008 had got off to a good start.
"'Our Asia business, which is significant, has been doing very well of late,' he told Reuters in a separate interview, adding: 'We have not seen a profound softening in the U.S.'"
Read more here.