Palm Beach Post to cut Sunday biz section
The Palm Beach Post will cut its Sunday business section and combine its daily business section with the metro section for several days during the week, according to a memo posted on the Broward-Palm Beach New Times web site.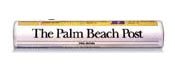 The memo, from editor John Bartosek, stated that local and business would combine sections "a few days a week," but didn't specify what days. Back in the late '90s, the Post only had a standalone business section on Thursday, Sunday and Monday.
As for the Sunday business section, Bartosek stated that the paper would be "moving the best features to other days."
The Post continues a trend of metro daily papers cutting back on their standalone business sections. The San Francisco Chronicle announced last month that it would cut Monday and Tuesday business sections, and the Tampa Tribune cut its Sunday business section.
Papers such as the Denver Post and Orange County Register have cut their standalone sections for the entire week. Other metro papers are considering similar moves, from conversations I have had with business editors across the country.