No firm evidence on how Murdoch would run Journal
Frank Ahrens and Mary Jordan of The Washington Post write a front-page article Saturday that states there's no hard evidence that would say how News Corp. CEO Rupert Murdoch would run The Wall Street Journal if he is successful in acquiring its parent company, Dow Jones & Co.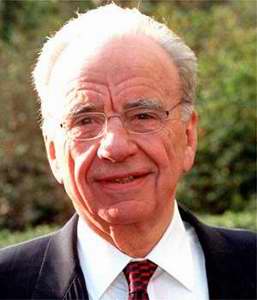 Ahrens and Jordan wrote, "Murdoch treats his different products differently. He enjoys rolling up his sleeves and jumping into his tabloids, such as London's Sun (known for its topless Page 3 girls) and the New York Post, but — at least in recent years — has tended to leave his more serious products, such as the Times of London, alone.
"Robert Thomson, editor of the Times, said allegations of self-censorship 'call into question the integrity of every journalist at the Times.' He said Murdoch does not meddle with the Times' editorial content, and he dismissed critics who he said make such allegations without offering evidence: 'They say you don't need evidence — it's so subtle you actually can't see it in the pages of the Times.' Thomson is advising Murdoch on the Dow Jones bid.
"With the Times, Murdoch has a written agreement not to interfere editorially; that is not the case with the tabloids. Greenslade said the editors of the Sun wanted to 'ditch' Prime Minister Tony Blair but Murdoch didn't, so they continued to support him."
Read more here.