Murdoch hears good things about WSJ managing editor
Steve Stecklow and Martin Peers of The Wall Street Journal have posted a transcript of the paper's interview with News Corp. CEO Rupert Murdoch from last Friday. In it, he discusses a number of different issues related to his offer to acquire Dow Jones & Co., the Journal's parent company.
Here is an excerpt of Murdoch's discussion about creating an independent editorial board to oversee the Journal: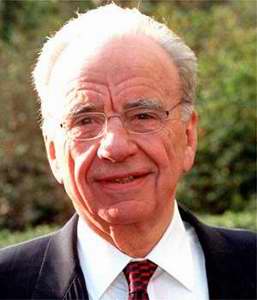 WSJ: What are you looking for?
Mr. Murdoch: People with absolutely no business connections to me nor the family. The family's selling out. They can't sell it and keep it. I have all the respect in the world for them, but you can't have it both ways. I can't put down $5 billion of my shareholders' money and not be able to run the business. That doesn't mean changing the editorial. We have no plans to change anything in the editorial.
WSJ: Do you mean the news side?
Mr. Murdoch: Both. I think the two-headed arrangement works fairly well. There are obviously — sometimes when they're on different sides, but that's all right. It's part of the character of the paper.
WSJ: You wouldn't change the editor?
Mr. Murdoch: No. Or the news editor. I don't know [Managing Editor] Marcus [Brauchli], but I know he's a friend of Robert Thomson [editor of the Times of London]. And I've heard very high recommendations.
WSJ: What would you do with the paper? The New York Times quoted you as saying the stories on the front page are too long.
Mr. Murdoch: I didn't. Let me say this. I said I was frustrated by the fact that so much of the good stuff I just didn't get time to read, I found myself keeping, putting sections of the paper aside to read when I got home at night, and not getting around to it. That's my incapacity as a slow reader, perhaps.
Read more here.