Ex-Dow Jones Online head named CEO of PaidContent.org parent
Rafat Ali, the CEO, editor and publisher at ContentNext Media, the parent of PaidContent.org, is stepping down from the CEO role and being replaced by Nathan Richardson, the former head of Dow Jones Online.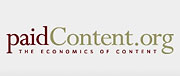 In a PaidContent.org post Thursday afternoon, Ali writes, "I am stepping out of my position as CEO (something I was never comfortable with, as people who know me can attest…I always liked the Editor and Publisher title better); but will keep the role of Chairman. We are very pleased to have chanced upon a perfect fit: Nathan Richardson is the new CEO of ContentNext Media. He is also joining our board. He will lead the company in the next phase of platform growth, including going deeper and wider into the sectors we cover.
"Nathan was most recently the head of Dow Jones Online, a brand that includes WSJ.com, Marketwatch and Barrons. He joined Dow Jones in 2005 after spending three years as head of the biggest finance site online, Yahoo Finance. While at Yahoo, Institutional Investor named Nathan the #1 Executive in Online Finance, the 'impresario' of the finance space. Since leaving DJ Online in 2006, Nathan had been on sabbatical to serve as the Country Director of the International Rescue Committee's operations in Liberia."
In addition, Ali promoted executive editor Staci Kramer to the position of co-editor.
Other promotions and new executives were named as well. Read more here.