CNN coverage is too negative on the economy
Julia Seymour of the Business & Media Institute critiques CNN's coverage of the economy and noted that with the exception of Fortune editor Andy Serwer, most of the comments are negative.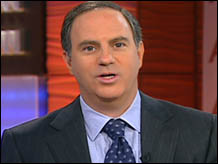 Seymour wrote, "Firing the first shot, host Jack Cafferty said on October 28, 'The Gross Domestic Product was a little on the gross side when it came out on Friday morning, disappointing to say the least.'
"Andy Serwer, editor-at-large of Fortune magazine, and a show regular, responded with a voice of reason to Cafferty's attack.
"'See, I think we gotta take a step back here and tell ourselves that as far as the economy goes, it doesn't get any better than this. I mean, think about it, the Federal Reserve didn't touch interest rates. That means it thinks the economy is neither too hot, nor too cold. The stock market's going up, energy prices are down, what more do you want?' asked Serwer.
"But CNN business anchor Jennifer Westhoven disagreed with Serwer and said 'the housing market looks pretty bad and you know heating costs are gonna be really tough this winter.'"
Read more here.