Biz media once again turning analysts into stars
The Deal executive editor Yvette Kantrow writes Friday about how business journalism is once again turning a handful of buy-side banking analysts such as Richard Bove and Meredith Whitney into media darlings, just like they did with tech analysts in the late 1990s.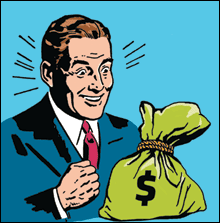 Kantrow writes, "We're not arguing that Whitney and Bove aren't solid analysts and won't continue to make good calls. But what their celebrity demonstrates is even in these post-Blodget times, the media can't stop itself from annointing the next stock picker or market caller extraordinaire. Alas, this tends to end badly, as one cycle's seer becomes the next's dunce. Just ask Elaine Garzarelli.
"Or Blodget or Meeker or Jack Grubman, who, conflicted or not, were right until they weren't. Blodget was the topic of a recent redemption piece on BusinessWeek.com by the magazine's Roben Farzad. While many commentators expressed disgust that Farzad is now a fan of the disgraced analyst, we were taken aback by Farzad's opening admission about owing a 'debt of gratitude' to Blodget.
"'In 2000, when I left Wall Street to be a business writer, castigating him won me instant cred with readers,'Â Farzad explained. Put another way: Jumping on the Blodget-bashing-bandwagon helped Farzad advance his career. In other words, being a lemming paid off.
"Now the lemmings have moved on. Their next trick: the inflation of Bove and especially Whitney, who will ride that Times page 1 appearance. But Whitney, for one, realizes, even if the media does not, that her 15 minutes won't last forever."
Read more here.