Philly Inquirer editor dies of heart failure
Thomas Brady, a Philadelphia Inquirer copy editor who had written the "Newsmakers" gossip column and he recently edited a news column about business people in the news that often included short profiles of leaders, died Sunday of heart failure. He was 57.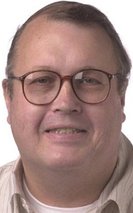 Inquirer staff writer Jane M. Von Berger wrote, "The graceful profiles offered interesting and surprising twists on local business executives.
"But one of Mr. Brady's favorite Inquirer jobs was interviewing authors for a book column he used to write. Mr. Brady bought many books and never liked to throw them away, said his friend Douglas Keating, a former Inquirer theater critic.
"Mr. Brady loved traveling to Cape May and to the Mohonk Mountain House in New York. Although he was basically unathletic, he loved to swim, Keating said."
Read more here.