CNN.con launches new tech site
CNN.com on Thursday announced the launch of CNN Tech, a completely reimagined section with the latest news, products, perspectives and buzz in the world of technology.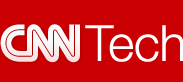 Edited by CNN.com tech producer Brandon Griggs under the leadership of features editor Cybil Wallace, CNN Tech draws on the reporting of CNN Worldwide to provide technology news. Available at www.cnn.com/tech, the section's content can be filtered by categories and beats, including Social Media, Mobile, Web, Gaming & Gadgets, Innovation and Tech Biz.
It has business reporting from CNNMoney.com and Fortune magazine.
"This section has it all — the latest tech news that users expect from CNN.com, plus new coverage on the intersection of technology and culture, mobile, gaming, gadgets and other key tech beats, and reporting from our world-class partners, all in a user-friendly, blog-inspired design," said Meredith Artley, managing editor of CNN.com, in a statement.
Read more here.