Bloomberg executive editor named co-chair of Pulitzer board
Longtime business journalist Amanda Bennett, the executive editor of Bloomberg News, has been named the co-chair of the Pulitzer Prize board.
David Kennedy, a Pulitzer Prize-winning historian, Stanford University professor and co-director of a center that studies the American West, is the other co-chair.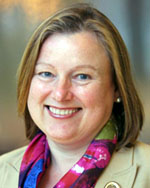 Bennett and Kennedy have served on the Pulitzer board since 2002. They replace Anders Gyllenhaal, executive editor of The Miami Herald, who recently completed his tenure as chair. Members of the board serve a maximum of nine years while a chair serves for only one year.
It's the first time anyone from Bloomberg has chaired the board. Bloomberg has never won a Pulitzer.
Bennett, who directs special projects and investigations for Bloomberg News, was the editor of The Philadelphia Inquirer from June, 2003, to November, 2006, and prior to that was editor of the Herald-Leader in Lexington, Kentucky. She also served for three years as managing editor/projects for The Oregonian in Portland.
Bennett served as a Wall Street Journal reporter for more than 20 years. A cum laude graduate of Harvard College, she held numerous posts at the paper, including auto industry reporter in Detroit in the late 1970s and early 1980s, Pentagon and State Department reporter, Beijing correspondent, management editor/reporter, national economics correspondent and, finally, chief of the Atlanta bureau until 1998, when she moved to The Oregonian.
In 1997 Bennett shared the Pulitzer Prize for national reporting with her Journal colleagues for far-ranging coverage of the struggle against AIDS; and in 2001 she led an Oregonian team to a Pulitzer for public service, providing an "unflinching examination" of problems within the U.S. Immigration and Naturalization Service.
She is on the board of the Loeb Awards. Projects by the Bloomberg projects and investigative team won a 2008 Loeb Award, a 2009 Overseas Press Club Award, and a 2010 Polk Award.
Read more here.