Being a small-town biz reporter
Tom Hacker, the former editor of the Northern Colorado Business Report and now a reporter for the Loveland Reporter Herald in Colordao, writes about what it was like to edit and report for the weekly business paper.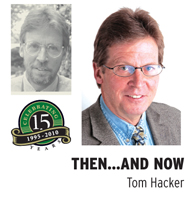 Hacker writes, "No other profession is more relationship-based than journalism. Building trust and developing reliable sources for information has always been the key to NCBR's success.
"But some of the relationships I cultivated there grew into friendships so close that I had to cross some names off my reporter's source list. We had become too cozy for journalistic comfort.
"Editors of small publications are also beat reporters. My beats were health care and, somewhat ironically, real estate. As my successor in the editor's job, Kate Hawthorne, once said, 'You know, you might be the only real estate writer in the state who owns no property.'"
Read more here.